Things to do in Miami
Things to do near Miami Beach Convention Center
When you come to Miami Beach for a convention, you might have a few days or hours extra to spend with your family. We have a list of things for you to do here inside the airport, just check below. If your flight wait is 6 or more hours we have a few choice things to do in the Miami area. These things to do should be prearranged with a reliable tour agency.
Miami City Tours
Exploring the city of Miami should include these wonderful attractions: Jungle Island, Miami Metro Zoo, Miami Seaquarium, Miami Beach Boardwalk, Flamingo Park, Bass Museum of Art, Bayfront Park, Art Deco Walking Tour,
Jewish Museum of Florida-FIU, 305-672-5044,
Miami Beach Cinemateque, 305-673-4567,
World Erotic Art Museum, 305-532-9336,
Miami Beach Botanical Garden, 305-673-7256.
Make sure to leave plenty of time to get back and forth in time for your flights. Tell the tour company that you use, that time is critical, the good tour companies will be on time every time for your flights. They will approximate 30 minutes each way from the Miami Airport for you
Jungle Island
$125 per person two or more. Single person price is $194. includes round trip transportation and the Jungle Island park tickets. Keep in mind it takes about 15 to 30 minutes, each way, depending on traffic, to get from Miami Airport to Jungle Island. You will need about 3 to 4 hours to enjoy the park. Park hours are; Monday to Friday 10 am to 5 pm, Saturday and Sunday 10 am to 6 pm. Visit La Playa, Jungle Island's own private beach when you're in need of an umbrella to lie under, or a frozen cocktail to cool off with. This is a great place by to enjoy views of downtown Miami and Biscayne Bay while breaking between the many fun animal shows. Jungle Island Tour details CLICK HERE
Phone the Park 305-400-7000
Miami Seaquarium is about 15 to 30 minutes from MIA, depending on traffic.
$125 per person two or more. Single person price is $194 includes round trip transportation and the Park tickets.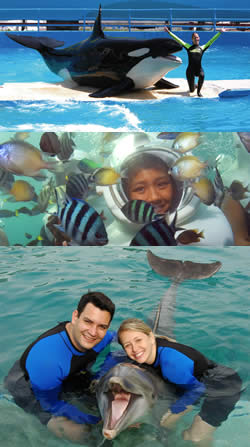 Miami Seaquarium
Learn about the fascinating creatures that swim beneath the surface of the ocean: at Miami Seaquarium, you will be introduced to manatees, sharks, dolphins, sea lions, and seals. You will be in awe as you watch powerful Lolita the Killer whale walk on water.
Don't miss the Seaquarium's exhibits, especially the brand new Stingray exhibit, which features a touch pool containing Southern and Cownose stingrays. On the Top Deck area, you will be stunned by the colorful variety of tropical fish that teem in the deck's aquarium walls, and at Crocodile Flats, you can see Nile Crocodiles that may reach up to 16 feet long!
The Miami Seaquarium is a 38-acre oceanarium located on the island of Virginia Key in Biscayne Bay, Miami-Dade County, Florida, United States and is located near downtown Miami. Founded in 1955, it is the oldest oceanarium in the United States. by Wikipedia
Miami Seaquerium is open from 9:30 am to 6:00 pm every day of the week.
4400 Rickenbacker Causeway, Key Biscayne, FL 33149.
About 15 miles from Miami International Airport.
Phone: 305-361-5705